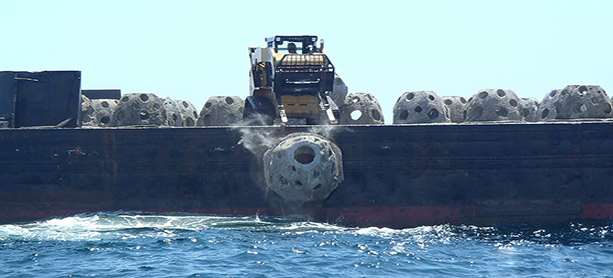 • Deployment of 144 prefabricated concrete reef units at Artificial Reef DRH Reef, located 17 miles east of Sapelo Island.
• Deployment of a surplus 85-ft steel barge and 72 concrete transmission pole sections at Artificial Reef ALT, located 7 miles east of the mouth of the Altamaha River.
• Deployment of 44 concrete utility pole sections, each measuring 55 feet in length and weighing 7.5 tons, at Artificial Reef CDH, located 13 miles east of Cumberland Island.
• Design and construction of a motorized recycled oyster shell bagging machine.
• Completion of oyster reef restoration project adjacent to the Overlook Park public fishing pier in Brunswick, Georgia. A total of 3,153 bags of recycled oyster shell were placed on wooden pallets creating a footprint of 2,600 square feet.
• Completion of an oyster reef restoration project on the Chatham County Public Shellfish Harvest Area located within Oyster Creek near Tybee Island. A total of 3,568 bags of recycled oyster shells and 248 bundles of oak limbs were deployed creating a footprint of 5,317 square feet.

FOR MORE INFORMATION CONTACT: