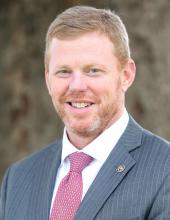 Chris Riley
Board Member
Riley began his career as a volunteer at the grassroots level during Deal's 1992 campaign for Congress. Over the years, Riley has worked in a variety of influential roles as part of the Deal team: project and grants coordinator, campaign manager for Congressional reelections, deputy chief of staff, and chief of staff. In 2009, he resigned as chief of staff to manage Deal's campaign for governor. After winning the gubernatorial election, Riley was appointed Deal's chief of staff in January 2011. Three years later, Riley left this role temporarily to successfully lead Deal's campaign for reelection in 2014. Upon Deal's swearing-in in January 2015, Riley again assumed his role as chief of staff.
As Governor Deal's chief of staff, Chris wore many hats. He oversaw all aspects of the Governor's Office and agencies throughout the state. As the governor's top advisor, he worked on legislative initiatives, reviewed budget recommendations, approved public messages, and effectively handled challenges that arose within state agencies. His main priority was making sure that the governor's goals and vision were met and implemented.
After serving all eight years as chief of staff to Governor Deal, Riley has since teamed up with Deal in the private sector, creating Deal Riley and Associates in January 2019.  The small firm concentrates its efforts both consulting internally within and lobbying activities for its clients.
In keeping with tradition, The Riley lives on a small farm in north Hall County, where he also operates a small cattle operation.